Little known fact: "innate brain byte" is an anagram for:


---
You probably know about Internet in a Box, one of the earlier attempts to make the Internet more accessible for new users. We now proudly present the next generation, the ultimate user interface, the only Internet product that even a baby could use: Internet in a Baby.
---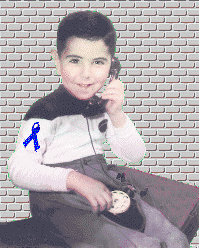 Just click on the brick wall and various parts of the baby and phone
Can't find all the links? Look at the map of hotspots in the picture.
---
Believe it or not, every web page of any significance can be reached simply by clicking on different parts of this picture. Try it yourself! Click on the black plastic body of the telephone and wait patiently. This will bring you to the Yahoo index page for telecommunications. (If you aren't familiar with the Yahoo system, click on the word "Yahoo" at the upper left corner of that page to see the rest of it.) Use your browser's "go back" button to return to the baby picture after each link.

Then click on the baby's hair, eyes, nose, mouth, and all the other features of the baby's body and clothing, the parts of his toy telephone, and the couch. Each click will lead you to a humorous, weird, or educational web site appropriate for that portion of the picture.

Remember to use the "go back" button to return to the baby picture when you are finished visiting each site.
---

There have been 438930 accesses to this page.
Internet in a Baby was the Cool Site of the Day for April 2, 1995, LipService top ten of the week for February 18, 1996, Wave of the Day for January 6, 1996, Puppy's Pick for December 18, 1995, Anthony's Most Annoying of the Web for July 8, 1995, and Worst of the Web for January 25, 1999. Some people think it's strange that we would mention the latter two "awards", but as everyone in Hollywood knows, it doesn't matter what you say about this page as long as you spell the URL right!
Like everyone, the baby has a bookmark file with his favorite web links.
Please fill out the baby's feedback form or send mail to baby@wideweb.com